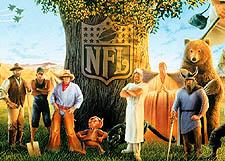 Noted sports artist, Tim Spransy captures it all in a beautiful rendering of a family portrait. In the middle of a breathtaking landscape, the NFL Family Tree is in full bloom with each of the 31 current helmets. That's right, thirty-one. The Cleveland Browns are returning in 1999! (Score six points for those of you who caught that one.) Each current team mascot is represented in amazing life-like detail. (Do you think you can find them all?) The artwork is a definite conversation piece that can bring life to any home, office or your business to entertain your customers. No sports fan should be without one.
For the true collector, the NFL Family Tree also comes in limited editions and artist's proofs. Each hand-numbered print consists of the artwork only, printed on special stock paper (29" wide x 25" high including a 2" white border, and is autographed by Tim Spransy. The lineage will be included on the certificate of authenticity. Only 1,998 limited editions and 98 artist's proofs will be made, so do not delay.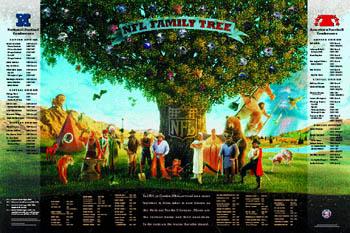 Copyrightę 1999 Together Enterprises, LTD., All rights reserved.
Created by Mark Latture from The Web People.