Together Enterprises LTD, parent company of Forever Football LLC and creators of the Professional Sports Family TreeTM product line proudly presents the NFL Family Tree, an officially licensed family portrait of the National Football League. With this 36" x 24" artprint you will be able to trace all 78 franchises (120 plus teams) that ever played since the league's inception in 1920 to the present day. (No, that's not a misprint.) Every name change, every relocation, every league and every year each team played is included in this one-of-a-kind collector's item.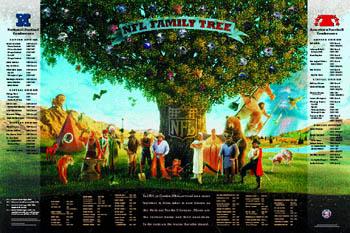 Copyrightę 1999 Together Enterprises, LTD, All rights reserved.
Created by Mark Latture from The Web People.